Exploring the Elegance of Franciacorta DOCG: A Journey with Bonfadini
When it comes to sparkling wines, Champagne often takes center stage. But there is a hidden gem in the world of traditional method sparkling wines, and that gem is Franciacorta. Found in the Lomabardy region of Italy, Franciacorta DOCG wines are renowned for their elegance, complexity, and distinctive character. In this post, we'll dive into the world of Franciacorta and Bonfadini, a producer known for crafting exceptional sparkling wines.
What is Franciacorta?
The name Franciacorta refers to both the wine and the area of production, located about an hour east of Milan and on the shores of Lake Iseo. The DOCG designation stands for 'Denominazione di Origine Controllata e Garantita,' the highest quality classification for Italian wines. While the region's wine history dates back thousands of years, the modern history and fame started in the 1950s with Franco Ziliani. He was a young, dynamic winemaker who experimented with the production of bottle fermented sparkling wines. His first release was in 1961 and in 1967 Franciacorta was the first traditional method sparkling wine to receive DOCG status.
Key characteristics of Franciacorta:
Production Method: Franciacorta is made using the traditional method, also known as the Champagne method. This involves a second fermentation in the bottle. It is more expensive and time consuming than other methods.
Grape Varieties: The primary grape varieties used in Franciacorta are Chardonnay, Pinot Noir, and Pinot Blanc. These grapes thrive in the region's unique terroir.
Terroir: The region's terroir, characterized by its glacial soils and temperate climate influenced by nearby Lake Iseo, imparts a distinct minerality and freshness to the wines.
Aging Requirements: Franciacorta requires a minimum aging period on lees, which are dead yeast cells that contribute to complexity and creamy texture of traditional method sparkling wines. Non-Vintage = minimum 18 months; Rosé = minimum 24 months, and Vintage (Millesimato) = minimum 30 months.

This is the longest minimum lees aging requirement in the world for traditional method non-vintage sparkling wines – including Champagne!

Styles: Franciacorta comes in various styles including Brut, Extra Brut, Rosé, and Satèn. Satèn is a unique style of Franciacorta. It is a Chardonnay based Blanc de Blancs with maxiumum 5 atm of pressure. Normally traditional sparkling wines contain 6 atm of pressure. The reduced pressure gives the wines a softer, silkier mouthfeel.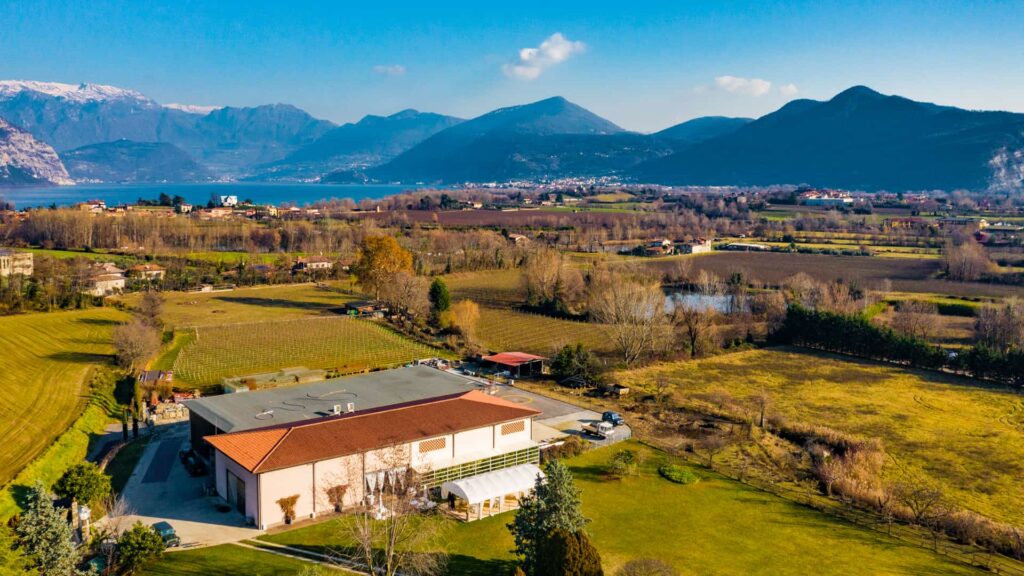 Bonfadini Winery: Crafting Excellence in Franciacorta
Now, let's shine a spotlight on Bonfadini Winery. They are a family-owned estate that has been producing exceptional Franciacorta wines for generations. The winery dates back to 1956 with Giovanni Bonfadini. Today, the winery owned and operated by his granddaughter Francesca. It was after Francesca joined that the first Bonfadini Nobilium Brut was born in 2010. Bonfadini is committed to preserving the traditional winemaking techniques that have made Franciacorta famous as well as using eco-friendly viticultural practices to protect the land and ensure the longevity of their vineyards. The vineyards are located in the prestigious sub zone of Erbusco, known for its ideal sparkling wine terroir. Bonfadini produces a wide range of styles including their flagship Brut, elegant Satèn, vibrant Rosé, and Brut Nature (zero sugar added). They also have two vintage wines – a rosé called Aurora and a brut called Victus.
Nobilium: Non-vintage blend of 90% Chardonnay and 10% Pinot Nero, this lively sparkling wine displays notes of lemon, apple, and bread crust.
Carpe Diem: 100% Chardonnay, this silky wine displays notes of apple, tangerine, peach, mineral, and herb with brioche on the finish.
Opera: A 50-50 blend of Pinot Nero and Chardonnay, this rosé has scents of wildflower, orchard fruit, berries, and pastry dough with pomegranate and grapefruit on the palate.
Veritas: A blend of 90% Chardonnay and 10% Pinot Nero, this delicate nose displays notes of white flowers, citrus, herbs, grapefruit and brioche. Zero sugar is added to the second fermentation making this a racy, linear wine with a silky mousse.
Aurora 2016: A 50-50 blend of Pinot Nero and Chardonnay, this dry and elegant sparkling wine displays notes of stone fruit, apple, pomegranate, berry, and bread crust.
Victus 2015: A blend of 90% Chardonnay and 10% Pinot Nero, this bone dry wine displays notes of apple, pear, ginger, citrus, and hazelnut.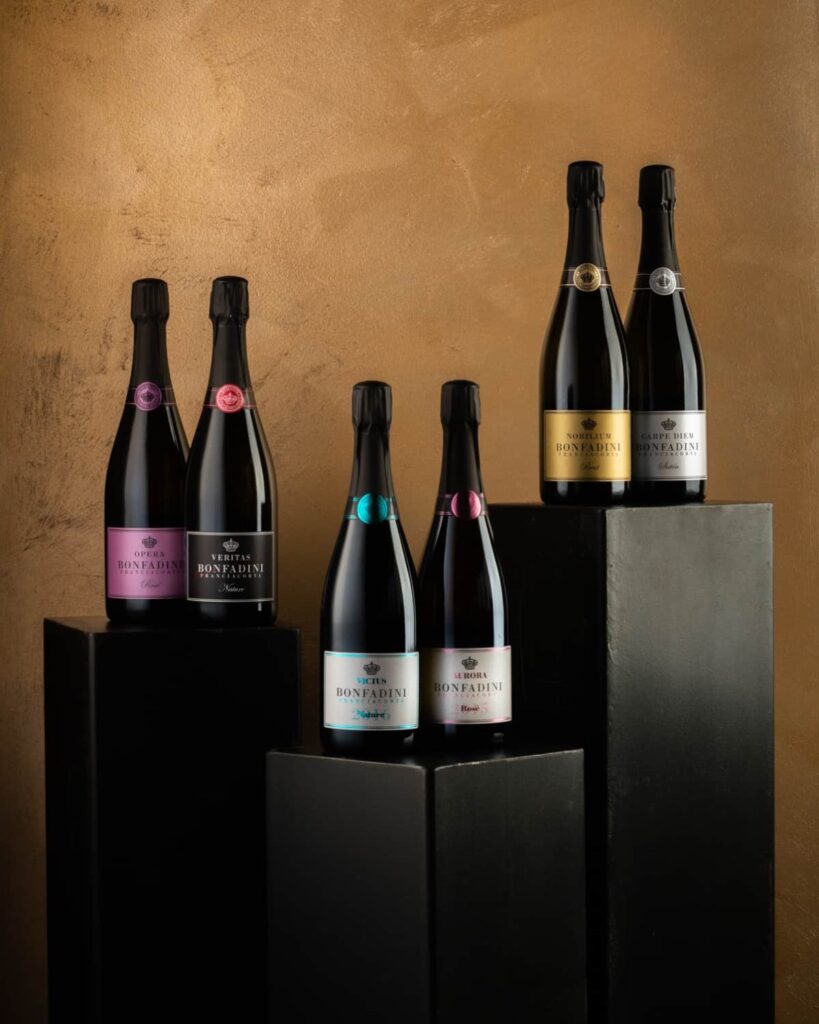 The next time you're seeking an elegant sparkling wine to elevate your celebration or dining experience, consider exploring the wines of Bonfadini and Franciacorta, as they are a true rival to Champagne! Salute!